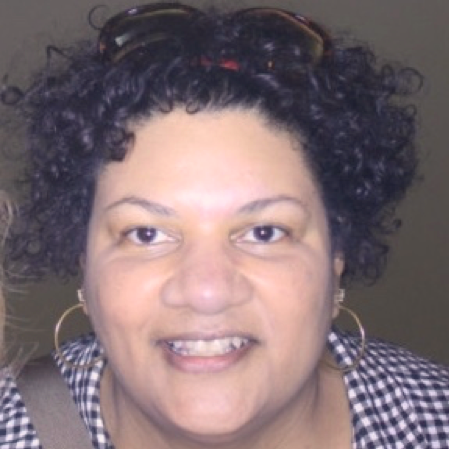 My name is Donna Prime, I live in Iowa City, Iowa and have lived in Iowa off and on since 1976. I attended high school in Cedar Rapids and college in Cedar Rapids and Des Moines at Drake University. I have worked at the Iowa City VA Healthcare System for 28 years and currently work in the VA Transplant Center as the Program Manager, Administrative Assistant.
I have an older sister who started having eye problems when she was a toddler, but it went undiagnosed until she was 6-years-old. When I started having eye problems at the age of 12 it was suspected we might be dealing with something that was hereditary. My father was in the United States Air Force, so we saw many doctors about our eye disease including some Ophthalmologists in Japan who wanted to do laser surgery on my optic nerve in hopes of stopping the disease from progressing, but my parents being level headed and not too keen on their daughter being used as an instrument for experimentation, politely thanked them but declined. It wasn't until I was 15 years old and we were living in Omaha Nebraska where my father was stationed at Offutt Airforce Base where we saw an Ophthalmologist who diagnosed me and my sister with Stargardt's macular degeneration. He was familiar with how the disease effected the retina but also informed us that there was nothing that could be done to repair the damaged cells. From that point life went on, I completed school, I traveled and I had various jobs. I use assistive devices in my job and at home. I have taken blind training through the Iowa Department for the Blind and the National Federation of the Blind. I have become an advocate for the rights of blind people through my work with the NFB.
My association with the Institute of Visual Research began when I became a patient of Dr. Edwin Stone. Imagine my surprise when during one of my appointments he announced that he was going to be doing research to identify the gene that caused my eye disease. The next thing I knew my entire family were all signed up to provide blood samples to be used in a genetic study, it was great. Up to this point my family hadn't had a common cause to rally around for some time and they were happy to participate.
Dr. Stone asked me if my sight could be restored to some point what would be the one thing I would want to do that I couldn't do now. I told him I want to be able sit up and read a book without having to use assistive devices or hold the book so close to my face it hurt. One of my fondest memories as a child before the Stargardt's, is being able to go to the Library, check out a book, sit down and read.
---